About Us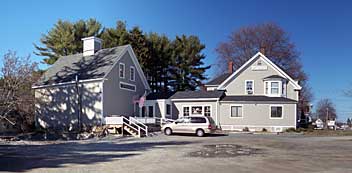 The Train Shop at Brentwood Antiques carries an extensive line of O-Gauge trains and accessories. We also carry HO, N, and G-Gauge items.
Brentwood Antiques is located on Route 1 in Hampton Falls, New Hampshire. The store is open daily year round from 10 AM to 5 PM.
We ship UPS daily for those who are unable to make it to our shop.
Directions to our store
The shop is easily reached from all directions.
From Massachusetts

Via I495 and I95 proceed to exit 1 (Seabrook) in New Hampshire. Proceed right off the exit to Route One, take a left heading north, the shop is approximately 3 miles on the left.

From the North

Take I95 south to Exit 2 (Hampton exit) proceed East on Route 101 to the Route One exit, stay to the right (Seabrook/Hampton Falls) the shop is approximately ¾ of a mile on the right.

From the west

Take Route 101 to the Route One exit, stay to the right (Seabrook/Hampton Falls) the shop is approximately ¾ of a mile on the right.

View Larger Map

If you need more information, please contact us.

Brentwood Antiques
106 Lafayette Road (Route One)
Hampton Falls, NH 03844
Phone

603.929.1441


FAX 603.929.8662
sales@thetrainshop.com
MTH Electric Trains
Located in Columbia Maryland, MTH manufactures a complete line of O-Gauge Engines, Rolling Stock and accessories. MTH also is producing G-Gauge Engines and Rolling Stock.
MTH produces O-Gauge trains in both a premier line and RailKing a semi-scale line. MTH premier engines and rolling stock are built to scale and are highly detailed. The Railking line is built with the same high quality but items are in semi-scale proportions, allowing them to be run on a tighter radius.
Both Premier and Railking engines contain MTH's Proto 2 DCS Digital Command System. These engines can be run with most transformers and basic features activated through the bell and whistle buttons.
When you run Proto 2.0 engines with the DCS system, you add the most realistic operational options ever, including:
Independent control of each engine
Advanced speed control that runs in scale miles per hour
Extra sound effects such as proto-cast, proto dispatch and proto doppler
Ability to custom set dozens of sound and lighting options and smoke levels
Ability to download new software and sound sets
Run Lionel Command Control Trains with the addition of the Lionel TMCC Command Base
And much much more...
Lionel Trains
Located in Chesterfiled, Michigan, Lionel produces a full line of O-Gauge Scale and Semi-scale trains and accessories. They also offer items in the American Flyer line along with some G-Gauge items.
Lionel produces engines with signal sounds (horn or whistle) or with Railsounds and Train Master Command Control. Command Control engines can be run in conventional mode with the flick of a switch.
With the TrainMaster Command Control system, an operator can perform the following:
Operate advanced sounds and features of the command equipped locomotive
Operate multiple engines on the same track, at the same time
Operate electro couplers anywhere on the layout
Increase, decrease or shut of the smoke unit
Trigger TowerCom announcements
Plus many other features.
Atlas O
Atlas O produces quality engines, rolling stock and accessories. Lionel Railsounds and TrainMaster Command Control are available in their engines.
Shopping Online
You can shop at www.thetrainshop.com with confidence. We have partnered with Authorize.Net, a leading payment gateway since 1996, to accept credit cards and electronic check payments safely and securely for our customers.
The Authorize.Net Payment Gateway manages the complex routing of sensitive customer information through the electronic check and credit card processing networks. See an online payments diagram to see how it works.
The company adheres to strict industry standards for payment processing, including:
128-bit Secure Sockets Layer (SSL) technology for secure Internet Protocol (IP) transactions.
Industry leading encryption hardware and software methods and security protocols to protect customer information.
Compliance with the Payment Card Industry Data Security Standard (PCI DSS).
For additional information regarding the privacy of your sensitive cardholder data, please read the Authorize.Net Privacy Policy.
www.thetrainshop.com is registered with the Authorize.Net Verified Merchant Seal program.